Which Finger to Wear a Ring For Wealth Feng Shui?
The middle finger is considered a good finger to wear a wealth feng shui ring on. It connects to your wealth line and will energize it and create a seamless flow of wealth. The ring will typically contain two sets of mantras – one on the outside and one on the inside. This way, you can imbue both mantras with the maximum amount of power.
Those who believe in the power of the Feng Shui ring argue that if you really want to attract money and valuable material items, you should focus on the Feng Shui Pixiu ring since it is the most effective type of Feng Shui ring.
The Feng Shui ring has its origins in Ancient China. The word Feng Shui refers to the ancient Chinese art of arranging space, objects, and buildings in an environment to achieve balance and harmony.
Pixiu talisman
In feng shui, the Pixiu is considered a talisman of wealth. It attracts wealth and protects it. It can be placed in the wealth area of a home or office. This area is usually located in the far left corner of the home, close to a door. The Pixiu can also be placed on a desk, which represents your career. Its presence can enhance your career's feng shui.
According to feng shui, the Pixiu is one of the five auspicious celestial creatures. It is believed to bring wealth to its owner, and is often worn as a piece of jewelry. Despite its small size, the Pixiu is said to bring its owner good fortune and wealth. It also protects the wearer from negative energy and evil spirits.
When wearing a Pixiu talisman for prosperity, you should place the Pixiu's head outwards and tail inwards. This is because your left hand is receptive and your right hand is projective. This way, you are inviting wealth into your life. The Pixiu can also bring wealth to others. If you want to give your Pixiu a special someone, you can wear it on their left wrist. The Pixiu will help you strengthen your relationship and attract good luck to both of you.
Moreover, the Pixiu is not appropriate for everyone. It is not recommended for pregnant women, very old people, children, and people with deficient chi. It is also not suitable for people with the zodiac signs of the tiger, rabbit, and dog.
The Pixiu talisman is a powerful Chinese talisman that is a good protector of wealth. The Pixiu also protects against bad luck. It fights against evil spirits and unwanted energy, and it is said to protect people from accidents and illnesses.
The Pi Xiu is a perfect symbol of wealth and prosperity, and it can also attract wealth and luck. Wearing a Pi Xiu on your left wrist will activate its power and attract wealth and fortune. However, it is important to remember that the Pi Xiu should be cleaned before wearing it.
In Chinese mythology, Pixiu was the favourite animal of Tai Sui, the Grand Duke of Jupiter. It was thought to fend off anger of the Grand Duke and protect from misfortune. The Jade Emperor, however, banned Pixiu wearers from eating anything but gold, silver, and jewels.
Jade ring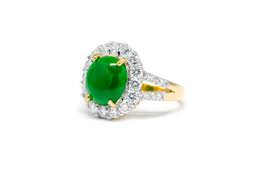 According to feng shui theory, wearing a jade ring for wealth brings good luck and prosperity. It also helps protect against bad intentions. It balances the yin and yang energy and strengthens the qi. The best place to wear a jade ring for wealth is on the middle finger. However, some people prefer wearing it on the index finger, since it activates the wealth line.
The Jade ring is one of the most popular feng shui rings. This stone, which is usually found in lighter shades of green, has a long history of helping people achieve prosperity. It is also known to restore yin and yang balance, and thus attracts wealth. Jade rings are a good choice to wear on the middle finger, index finger, or little finger.
The middle finger ring represents responsibility and marriage. It also symbolizes accumulating wealth. Wearing it on the right hand can decrease the blessing and damage the ring. A jade ring on the middle finger can be worn by both men and women. Males can wear a delicate jade ring to make it more aesthetically pleasing.
When it comes to the Jade ring for wealth feng and yang, you can choose from several styles, including Chinese jade rings and unique ring designs. For instance, you can purchase a ring with a Buddha on it or a frog on it. There are also big jade rings made of sterling silver.
When choosing a Jade ring, you should make sure that it is authentic. Jade is believed to have many healing properties. It can help strengthen your heart and protect your throat, and it can help heal wounds. In addition, it helps balance your emotions, calms your mind and stimulates your creative thoughts.
The Jade ring for wealth feng-shui ring is not only a jewelry piece but a tool for attracting wealth and prosperity. It activates the crown chakra and attracts good luck and abundance. The ring is also said to keep negative energies out and protect you from physical dangers.
The lightest Jade is associated with Taoist cosmology and is believed to have softer energies, known as yin. The deeper, dragon-green Jade is considered to have a more powerful and significant energy. It represents the ability to overcome adversity and live a better life.
A Jade ring for wealth can attract wealth and prosperity and can protect its owner from harm. It can be worn on any finger, but the most important thing is to wear it with the belief that it will bring good fortune. It is important to make sure that you wear it at all times.
A Jade ring can also increase one's authority in the workplace and attract success in life. It helps the wearer increase their ability to communicate with other people and improve their interpersonal relationships. It can also help the wearer develop a greater love for their work.
Jade ring is a good Feng Shui wealth enhancer so that you can wear it on your little pinky, index, and middle finger for good luck.
How to Wear a Feng Shui Pixiu Mantra Ring to Attract Wealth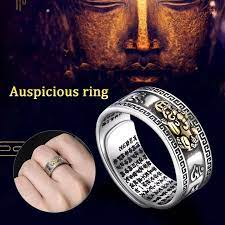 On the middle finger
Traditionally, wearing a ring on the middle finger is considered a good idea in feng shui. Not only does it improve your social status and interpersonal relationships, but it is also said to attract wealth and luck. It is best worn by married couples, while singles should not wear it.
Middle finger symbolizes marriage.
If you would like to draw good energy to your surroundings, you should not only wear the Feng Shui ring but also practice Feng Shui in your home.
A wealth ring is made of sterling silver or fine silver plated, with the words Success and Wealth inscribed on the inside. Wearing it on the middle finger will energize the line of wealth, resulting in smooth flow of wealth. It usually contains two sets of mantras, one on each side, to imbue the wealth feng shui ring with the maximum power.
To wear a wealth feng shui ring on the middle finger, you need to know where to place the ring. The money line is the vertical line from the middle finger to the wrist. Wearing a ring on the middle finger activates this line, which opens the doors of Pixiu wealth.
A wealth feng shui ring worn on the middle finger is the most effective way to attract wealth. It protects you from negativity and can help you achieve your goals. Wearing a ring on the middle finger can also improve your relationships.
When wearing a wealth feng shui ring, you must wear it every day to be sure that it brings the best luck and wealth for you. The ring should be worn on the middle finger of the right hand, as it connects to the Wealth Line in the palm. In addition to helping you attract wealth, it will protect you from backstabbers and villains.
If you are looking for a wealth ring for the middle finger, you will want to wear a ring that contains the words "Success" and "Wealth." This will attract wealth to your hand, and increase your chances of success. You should also wear a ring that contains blue sapphire, which will enhance communication skills and boost your career prospects.
The ring should be cleaned after each wear to eliminate any negative energy. You can use a feng shui cleansing bowl or moonlight to cleanse your ring. The ritual will enhance the power of the ring. And remember, never break the rules when wearing your feng shui ring. The more you wash it, the better the effects it will have on you.
Tips for Wearing Feng Shui Ring for Wealth
When you are looking to improve your fortune using feng shui it is advisable that you follow some guidelines. Generally speaking, this ring has an important role to play in your everyday life. Don't buy a ring to wear at home; put it on until your next occasion to wear a fashion item. It is recommended to wear this ring during the morning only when the person is sleeping in bed or in a room. Also, do not use it while swimming. Before buying Feng Shui rings, you should know how the ring works. Wear the fengshui ring with the intention of helping to achieve a more prosperous existence.
Feng Shui Mantra Ring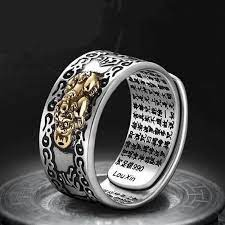 The Pixiu structure is located above the floors and is also called a Pixiu Mantra ring. if it has been placed into its own hand it will attract immense money to your life. Having the right ring is not only beneficial for the wealth of someone. The wearer will be given unexpected wealth. This is a highly acclaimed feng shui ring and it has been used to deflect bad energy from your life and to prevent physical harm. The beautiful ring is worn with upper fingers for the activation of the magic. It's ideal as these ring links the index finger to the middle finger where wealth lines run.
How does Feng Shui work?
In Chinese mythology, feng shui rings are believed to be powerful at attracting money. The ring is considered a powerful feng shui enhancer. Many people believe wealth does not come through hard work. They believe in how vibrations affect the physical world in determining your future. Some people believe Feng Shui rings are the best way to attract more people because of its power. It has been deemed to aid with social status and a greater sense of control in society.
Can I wear Pixiu while sleeping?
You must use the xuu on your left hand, but they are made from obsidian so that you may also put it at your hand. In general, never wear these while asleep or while swimming or having sex. Can someone help me learn black obsidian jewelry? As mentioned above, the black obsidian bracelet can be worn on the hand like any other crystal. It strengthens its powers for protecting and purifying your energy space. Wearing this on the left hand attracts luck and wealth.
How do you wear a red string bracelet with Piyao?
Pixiu bracelet should fit right hand. If you have worn them left, they represent luck and wealth. If you're wearing it in the right place you are leaving your wealth for another man. Is there anywhere I need to place an feng shui bracelet? Where can we get the feng shui bracelets? Normally the bracelet is worn on one hand. In traditional feng shui slang, the right hand gives something, and the left hand gives.
Tell me the meaning of red string around ankles?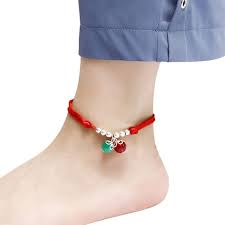 Where should Pixiu be placed?
Boost your wealth corner You may place the Pixiu on your wealth area facing towards the entrance to symbolize consuming wealth. If you look at the property, you can find it. What makes females and men Pixiu different? PiXiu can be classified in two groups and its antlers have two types. Two of them are females. They call themselves Bxé. Two males with an antler called "Tinlù" and the other with two.
In fact, it is also said to help you to accumulate wealth and then protect it.
How can you tell whether Obsidian is real?
Examine obsidians presence. Its smoothness is a distinct characteristic. Obsidian is the frozen liquid with tiny amounts of minerals. Check colour Because pure obsidians are typically dark, they may sometimes also appear to be almost white. Is Obsidian working? The obsidian is hard brittle amorphous and thus has splintered corners. It has been used previously for cutting instruments, and has been subsequently used for experimental surgical scalpels.
Feng Shui ring origins
Feng Shui rings originate from the ancient Chinese. Feng Shui is the ancient Chinese technique of placing space and objects in the environment for a purpose. Feng Shui is rooted in early Taoiseach, meaning water and Wind. Although Feng Shui originated in Beijing, it has become increasingly popular with western cultures. In most of the world, people now wear various types of rings for feng shui.
11 Gemstones and their meanings as per feng shui
All gemstones used for feng shui ring have an important meaning that you can achieve through their wearing. List some great gems from Feng shi and what it is all relating to.
How to wear Feng Shui Ring for wealth & luck + Types of Rings
Feng Shui experts suggest a few rings to wear with luck. This includes a Jade Ring, a blue sapphire Ring and Mantra Pixius Rings as well. All that is helpful in life.
Take your time to compare different Feng Shui rings and choose the ones that symbolize wealth and prosperity.
Jade Feng Shui Ring
The Jade ring is a stone of harmony in Feng Shui. Yin and Yang are regarded as a good balance, and can increase wealth as an effective wealth enhancer. As a gemstone, Jade has a reputation for harmony and protection. The tin can generally be bought with lighter greens. Jade has been shown to boost positive energies. You can wear jade rings on the fingers to get maximum results.
Emerald Feng Shui Ring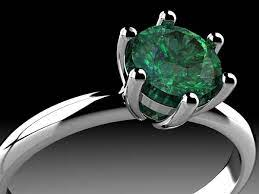 A gold feng shui ring featuring an Emerald Stone (Pinterest.net). A healing gem available in darker green, an emerald ring is among Feng Shui's most popular rings. For the best possible harmony between relationships, wear the rings. The small finger also works well. In addition, many religious and spiritual practices recommend wearing a gemstone ring.
Side Stone Ring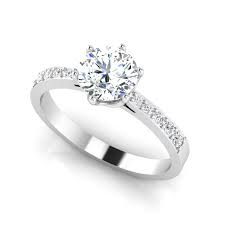 A bridal diamond ring in a ring design, also known for its feng shui ring. Source: Pinterest. In a side stone Ring design diamond is used alongside large gemstones at each side. This side stretches the sides, revealing the beauty of the stone. Side stone rings can be worn in diamonds like those shown on this picture.
Princess Cute
This deep blue sapphire ring in princess style is also available in a feng shui style. Sources: Pinterest. A popular style type for ring engagements, princess cut diamond rings have one stone centered on squares or rectangles. It lets just one single stone dominate the picture above but has no additional stones.
Blue Sapphire Feng Shui Ring
Blue Sapphire Gemstones (Sources: Pinterest.com) Wearing blue sapphire is one way to help improve communication with others and help you achieve a more positive life. A blue sapphire is an excellent option when using the index finger. The feng shui rings are among the most beautiful available.
Clustered rings
This gorgeous ruby and diamond ring is stunning to look at! Sources: Pinterest. Cluster rings contain a number of types of stones. In this example, a single stone is found inside the ring with a variety of stones of a similar type around it or surrounded with another.
Garnet Feng Shui Ring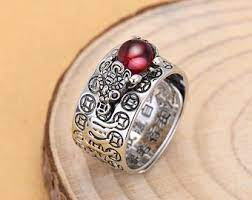 Garnet Diamond Feng Shiring Ring. You'll be able to get into a controlled position with just the index finger. This rings in your networking and communication skills, and in the end, it makes your employer more respected.
Amethyst Feng Shui Ring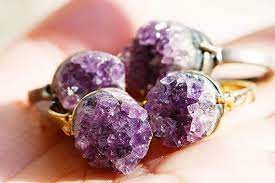 Amethystist feng shui ring. Wearing the rings on your index finger helps you improve your career. When you are making money for business use this is an important tool to wear.
Tortoise Feng Shui Ring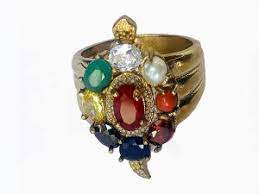 Its name implies that tortoises are attached with their furs. In addition to being stylish fashion accessories, this product is regarded to be an incredibly luckful thing. If you tried all of these things and experimented with luck, you could do it, too. The rest cites the quality.
Three Stone Ring
A three stone diamond ring design suitable for Fengshui. feng shui rings are made from three stones. Three stones stand together as shown below.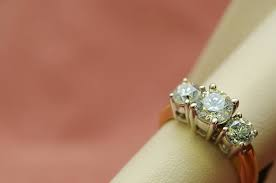 Mantra Pixiu Feng Shui Ring
These rings have the power of increasing a person's wealth. It is certainly an ideal ring for everyone seeking shopper luck and riches.
How do I activate my Pixiu Ring?
Pixiou rings need to be cleaned immediately after they start. If it is discarded, it will have a negative energy that will have a different effect than you intended it to. Then you can put it into a glass bowl with the most important objects such as metal and ornaments. You get it.. Very soon the chance comes.
Where should a Feng Shui ring be placed?
The ring should be worn by your hands. You can choose what finger you wish to wear depending upon the purpose. Choose the most versatile ring by analysing your options. Make your choices according to your desires! When choosing the ring, wear it the same way you would wear it.
Which ring finger is for wealth?
Most Feng Shui experts recommend wearing your ring on your middle finger to gain abundance. The fingers represent wealth and fortune.